Customer Reviews
Write a Review
Ask a Question
01/16/2020
Theresa O.
United States
Grandsons love their guitars!
My 2 grandsons were thrilled with their Loog Mini guitars!
01/15/2020
Brian K.
United States
Perfect for my beginner
My 7 year old son loves his new guitar and likes to show off how many notes he has memorized. Thanks Loog for making this awesome instrument even funner to learn then it already is!
01/15/2020
Brad S.
United States
Nice guitar for a kid
I was going to buy my 1yr old a ukulele for Christmas, but I wanted a decent one that could actually be tuned and played. My wife saw your product and I was sold right away. My son and I love the Loog mini, it is great. My one complaint is that you advertise 'perfect intonation', which simply isn't true. That said, it is an $80 guitar meant for kids and that's fine.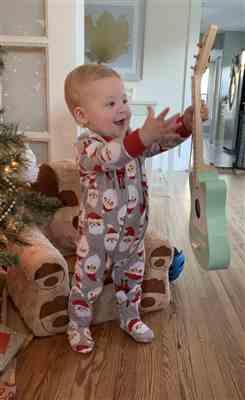 01/15/2020
Ian P.
United States
Mini Loog
Great quality guitar for our toddler and excellent customer service! Thanks Loog!
01/15/2020
Allison C.
United States
Perfect Size
She is a bit young for it yet, but it is the perfect size for her to hold while she explores how it works. In about 6 months it will be perfect (she will be 3 then)
---